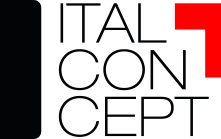 We are a Commercial Furniture and Equipment Agency for home projects, public spaces, hotels and contract.

We started our activity in 2006, in a moment where the best of us were required of us to consolidate this project, but thanks to the work and compromise of our Agency Team and Agents, and of course the most important participation, our clients / collaborators, we have managed to reach up to this point.

Right now in an increasingly dynamic and professional market, our philosophy is to offer a selection of brands that are especially innovative in their design and functionality and that allow us to bring originality, difference and effectiveness to your projects.

At ITALCONCEPT we are a human team with added value, extensive experience in the sector and with service as the main value. This is the way we understand our job.

ITALCONCEPT TEAM.